I love summer. I always did. Summer is the time when every day's little problems seem to be so much smaller, more solvable. Weather is usually beautiful in these parts and what I love most are the gentle winds of summer. The simple reason is that the winds are warm, yet cooling on a real hot day. They are lulling us into a feel of happiness.
Days without wind tend to get too hot and steamy, until a nice breeze springs up cooling us down. When the tree crowns are starting to move and the flowers and meadows are dancing I feel the best.


But as soon as the first days of fall have come the wind is changing its tone. No more gentle breezes but strong winds – almost storms - are then blowing off the sea. The wind gets colder and hostile and makes you grab your thick jacket. And once fall is over the wind is changing again. While it was cold before it is now ice-cold, downright freezing. Snow and sleet can be part of the mix. The east coast is known for being an inhospitable place during winter season. Brrr…lets not go there yet.

With summer comes also berry picking. We have been picking Red Currant and right now it's time for Raspberries. For the last 4 days I have been picking over half a pound every evening. And now we even discovered several trees with Service Berries. They are also called Saskatoon Berries. They are very sweet and make for great pie fills!!
Of course it's a bonus if we have a summer wind blowing as it will keep away nasty bugs and mosquitos. Later we are gonna be flooded with Blackberries.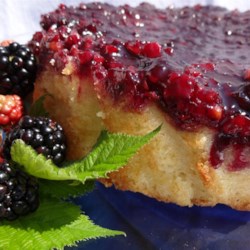 Blackberry (or Raspberry) Upside-Down Cake

Original recipe makes 10 servings
Topping:

1/4 cup brown sugar

2 tablespoons butter

2 cups fresh blackberries

3/4 cup white sugar

Cake:

1 cup white sugar
1/2 cup butter, softened

2 eggs

1 1/2 cups all-purpose flour

2 teaspoons baking powder

1/2 teaspoon salt

1/4 cup milk

1 teaspoon vanilla extract
Directions
Preheat oven to 350 degrees F (175 degrees C).
Melt brown sugar and 2 tablespoons butter together in a saucepan over medium heat. Add blackberries to brown sugar mixture; cook and stir until mixture bubbles, 1 to 3 minutes. Stir 3/4 cup white sugar into berries, crush berries slightly with a fork, and continue cooking until berries are hot and slightly broken-down, about 5 minutes more; remove from heat and pour into a 9-inch cake pan.
Beat 1 cup white sugar and 1/2 cup butter together in a bowl with an electric mixer until light and fluffy; beat in eggs.
Whisk flour, baking powder, and salt together in a bowl. Alternately stir flour and milk into butter mixture, beginning and ending with the flour mixture. Mix vanilla into batter.
Pour batter over blackberry mixture in the 9-inch cake pan.
Bake cake in the preheated oven until cooked through, 35 to 40 minutes. Let cake cool in the pan until warm, but not completely cooled, about 30 minutes. Run a knife along the inside edge of the pan to separate cake from the sides, place a cake plate over the top of the pan, and flip the pan. Lift the pan slowly to release the cake from the pan