Already it's February 28 – the last day of another month in the Southwest.
We see people packing up and leaving. It's that time of the year again. We have just 3 more weeks before we will join the hordes on the Interstate, heading to a northern destination. SNOWBIRDS we are for sure. Like migrating birds we change our residence within the rhythm of the year.

And I would think it has long-standing traditions as even some tribes of the early people in this country were nomadic. They might not have been traveling the long distances for the same reasons as we do every year, but they followed their prey – wild animals they could hunt down.

Most likely we will be hitting the home turf around April 01 and by that time I suppose the last winter storm should have passed giving way for spring and warmer temperatures.

Are we looking forward to get home? You bet we are! The summer will be a busy one as visitors will flock to Campobello Island to see the F.D.R. Cottage and our historic Head Harbour Lightstation.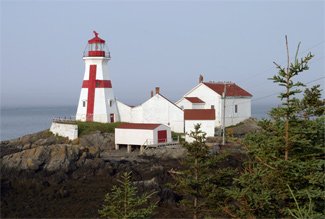 For the first time we will be able to bring visitors from the resort town of St.Andrews,NB to our island. Our boat will leave twice a day and land right below the F.D.R. Cottage from where we will start various sightseeing tours.

So yes, we are anxious to drive home even though we are also feeling sorry that our time here will soon be over.

It's the life of a snowbird and we feel really blessed that we can get the best of both "worlds".

Thanks for stopping by!